Valentine's Day 2018
Renew romance at The Westin Resort Guam
Valentine's Day
Exclusive course dinner
Celebrate Love this Valentine's Day with a specially tailored 4 or 6 course dinner including steak and lobster thermidor and a glass of sparkling wine.
VALENTINE'S DAY DINNER
Wednesday, February 14, 2018
6PM - 10PM
4 Course $100* MENU
6 Course $125* MENU

Reservations are highly recommended. Call 647-1020 or 647-0992.
A la Carte menu not available on February 14 during Valentine's Dinner.
Enjoy the scintillating Taste of LOVE
Share the love over Guam's Best Buffet featuring favorite aphrodisiacs from slipper lobsters and half shelled oysters to New York steaks on the teppanyaki, a roasted salmon on the carving station and then end the night with a decadent fountain overflowing with chocolate to stimulate excitement and a sense of well-being.

PRE-VALENTINE'S DAY DINNER MENU
Tuesday, February 13 6PM to 9PM
$50 adult | $25 child (6-11 years)*
Includes free flowing tea, coffee, Heineken, red and white wines.

VALENTINE'S DINNER DINNER MENU
Wednesday, February 14 6PM to 9PM
$60 adult | $30 child (6-11 years)*
Special king crab added on the seafood on ice.
Includes free flowing tea, coffee, Heineken, sparkling wine and live music.
*A customary 10% service charge will be applied.
Club Marriott and SP members receive a 15% discount.
SPG members receive up to a 20% discount based on membership level.
Menu is subject to change without notice.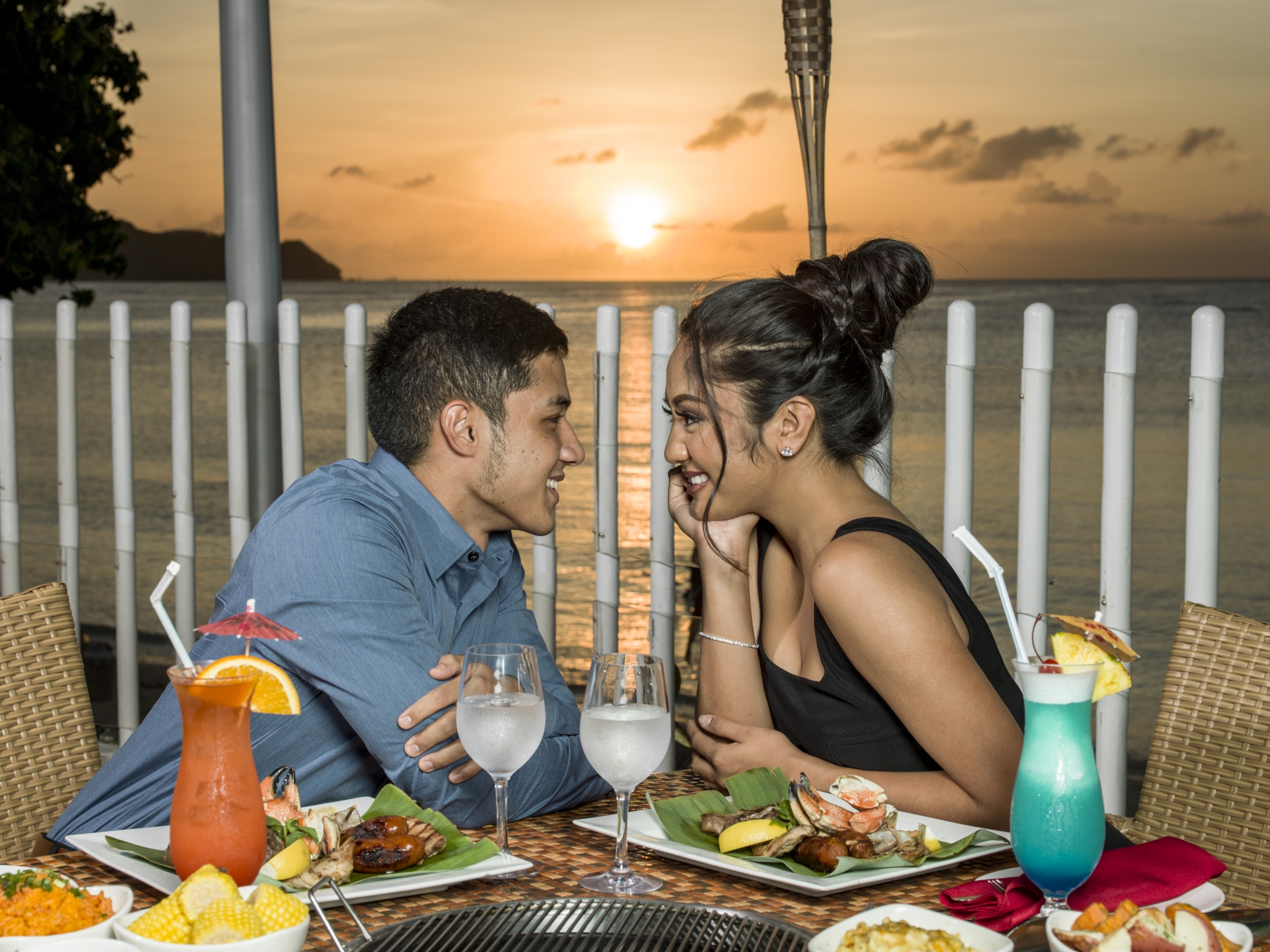 Make it a romantic beachfront starlit dinner
Make it a romantic beachfront dinner as Guam's picturesque sun sets in the horizon at Starlight BBQ.
Original BBQ - $50 Adult
Enjoy the sunset with a grill your own bbq of Certified Angus New York Steaks, lemongrass marinated chicken, Jonah crab claw, sweet longanisa pork sausage and seafood kebab.
Upgrade BBQ - $70 Adult
You will love the Certified Angus Beef rib eye, pork belly, pork sausage, salmon, scallops, and prawns grilled to your liking alongside Korean style lettuce wraps, ssamjang and sauces.
Original and Upgrade menus include an all-you-can eat salad, appetizer and dessert bar plus, free-flowing domestic beer, oolong tea and soda.

Make the evening even more special with a lobster barbequed right on the grill. Pre-order when making reservations.
Kid's set menu available.
Complimentary round trip transfers from Onward, Sheraton, Santa Fe or hotels within Tumon when you book Starlight BBQ directly at 647.1020 or 647.0915.
CALL 647-1020 OR 647-0915 FOR YOUR VALENTINE'S DAY RESERVATIONS.